Localization Tools
KDE provides powerful tools to perform localization process :
Also known as KAider, Lokalize is the replacement of the old KBabel. It's shipped by default since the KDE 4.1 release. Lokalize is a Translation Memory based application, which provides more comfort to the translator and prevents unintentional translation mistakes.
You may find more information about Lokalize here :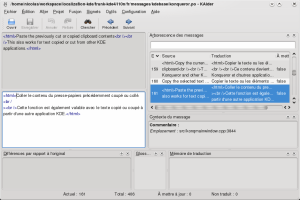 KBabel
KBabel will not be longer supported after KDE 4.1 release. You should switch to Lokalize which provides more features.
KBabel is a set of tools for editing and managing gettext PO files. Main part is a powerful and comfortable PO file editor which features full navigation capabilities, full editing functionality, possibility to search for translations in different dictionaries, spell and syntax checking, showing diffs and many more.
Also included is a "Catalog Manager", a file manager view which helps keeping an overview of PO files. Last but not least it includes a standalone dictionary application as an additional possibility to access KBabel's powerful dictionaries. KBabel will help you to translate fast and also keep consistent translations.
[ Edit ]